For the next few days I will be in Victoria helping out with Desert Bus for Hope. This is a fun and inspiring event, a charity video game marathon, streaming online and raising money for Child's Play Charity. Child's Play is "dedicated to improving the lives of children with toys and games in… over 70 hospitals worldwide".
This charity has a special place in my heart. Many people know that I play video games, but what most people don't know is that I starting playing video games when I was eleven years old and in isolation at the Seattle Children's Hospital. When I was eleven, I had cancer.
I always have to start this story by telling everyone that "I'm fine now." And it's true, I am cancer free for nearly twenty years now.
I don't tell this story often, not because I have an issue with it, but because it's not really something that comes up in conversation all that often. However, I should note that it's not an easy story to tell at times. I have strong emotions when it comes to sick kids in hospitals, and I had to pause several times when writing this post as I fought back tears.
With Desert Bus coming up, I thought this would be a good time to tell my story. I realize now that I have so much more to say about this than this one post will allow, so the whole story is something to be told another day.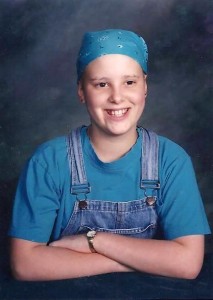 What I do want to tell you is that from my personal experience, I can confirm that donated toys and games and the work of charities like Child's Play makes a difference in the quality of life for sick kids.
My treatment lasted about eight months, with six months of chemotherapy and two months of radiation. During this time, if I ever was sick with a fever or had a low white blood cell count I had to go to the hospital, which usually meant being admitted for a week or more. If you have no white blood cells (those are the kickass cells in your blood that fight sickness) you don't do so well being surrounded by sick patients in a hospital. If I was in the hospital, it meant I was in isolation.
The word 'isolation' sounds pretty lonely, and it is. I mean, you get a room, TV, and bathroom to yourself, which is pretty sweet, but it's still lonely. My family is very supportive, but even they couldn't be in the hospital all the time. So I spent many hours on my own. I was sick, in pain, and in a hospital (with weird hospital smells). It kind of sucked…a lot.
One day, things went from suck to awesome. A nurse opened my door and wheeled in this large  mobile unit with a TV and video game console. I had never really played any video games up to that point, this moment was life changing. You see, someone had donated a TV, a Super Nintendo (SNES) and video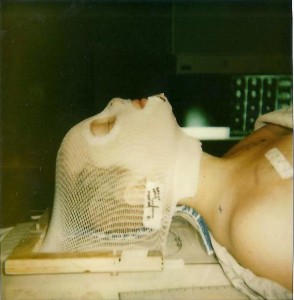 games. I imagine love at first sight, true love and all that is quite similar to the moment I saw that mobile entertainment unit of awesome wheeled into my little room. The smell of overly sterilized walls, linens and food was replaced by the smell of excitement and anticipation. (Everything is WAY more dramatic when you're a kid with a lot of time on your hands)
I learned how to play Super Mario Bros. sitting in my bed, hooked up to IVs and it changed everything. For a few hours of my day I was no longer sick, bald, and isolated, I was riding an egg laying dinosaur named Yoshi on a mission to save a princess and all of Dinosaur Land from the evil Bowser! I was no longer pale and weak— with a feather I could FLY!
I had access to movies and television, but this was better. This was more than just watching. In this world, I was a part of the story, I was in the story. I was fighting Bowser. It was me who learned to fly using a feather and donning a cape. Many times I would die and have to try again, and after so many attempts, I'd hit that one time where I made it… it was awesome. I had achieved! I had succeeded. I had learned something new. It's that feeling of accomplishment that is so simple and so meaningful to someone so weak and ill. And that's the thing. For those hours, I wasn't sick. I was just a kid, playing video games and having a blast.
If you are looking for a charity to support, a way to help improve a sick child's life, or to simply be a part of a good cause, I recommend supporting Child's Play Charity. I will be doing my part the next few days with Desert Bus for Hope. They will be streaming live online 24hrs a day until donations run out. Tune in to donate, participate in the auctions, or just watch us be silly as we entertain for the cause. Log in, say hi, I'll even do a silly dance for a fee. Don't worry, I only dance for money if it's for a good cause. And this certainly is.