Announcing new guests! Two shows full of entertainment!
Get dressed — fully dressed — and get psyched for Scott and Kris! It's a night of — hey, we said get some clothes on. The nude will be cited and escorted out. Okay. Get some pants on. All right. It's a night of laughter and magic as Scott Kurtz and Kris Straub (PVP, Chainsawsuit, Penny Arcade TV) join forces onstage for two full hours of talk and entertainment! A show so big even PAX couldn't contain it! Special guests NOW announced. We cannot guarantee the stability of the spacetime continuum at this event. Ticket purchases will NOT be refunded in the event of the formation of a comedy Stargate.
Thursday, August 30th [Tickets]
MUSICAL GUEST: PAUL AND STORM
Sunday, September 2nd[Tickets]
MUSICAL GUEST: MC FRONTALOT
The guests: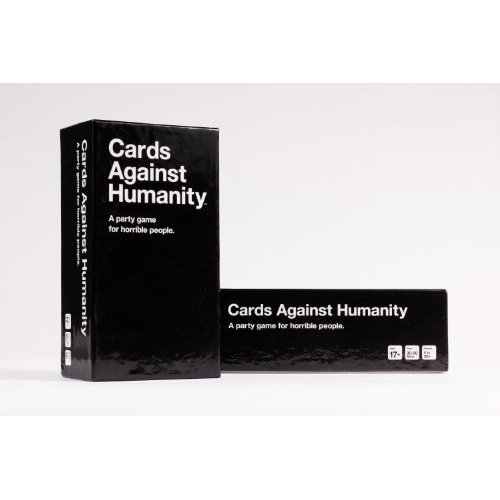 Cards Against Humanity (August 30th show)
The team behind the game for horrible people. These folks have created a game that has swept the geek world and brought out the worst in all of us. www.cardsagainsthumanity.com
LoadingReadyRun (August 30th show)
Started as a creative outlet so co-creators Graham Stark and Paul Saunders could fulfill their desire to make funny videos, LRR has grown into an internet comedy destination.
Inspired in name and appearance by the Commodore 64 Home Computer System, LRR is a site run by-and for-geeks. You have to be at least a bit of a geek to think writing, shooting and producing a new, original short sketch every week is feasible. But you have to be a giant geek to actually do it. Since LoadingReadyRun's start in 2003, it has consistently updated with a new video, every week. Often more!
LRR videos have been featured in film festivals such as the Comic Con International Film Festival in San Diego, and shown on major TV networks, including G4 TechTV, The CW, TruTV, NBC, and CNN.
MC Frontalot (September 2nd show)
A longtime idolizer of rappers, MC Frontalot (nee Damian Hess) he has been committing his own esoteric hip-hop compositions to four-track tape since high school, revealing them to nobody. Suddenly! Multi-track desktop studios, cheap pro-grade recording hardware, skyrocketing bandwidth, semi-anonymous web publishing – these factors converge on Damian's rap hobby like a flock of winged monkeys. He posts an MC Frontalot web page, dubbing his output "Nerdcore Hip-Hop" since his audience is composed of several Star Wars figurines who live on his desk (and also random internet people who click on his MP3s by mistake).
Now it is 2012. Nerdcore has metastasized into an internet phenomenon and underground touring powerhouse, with dozens of live acts and more than a hundred home-studio rhymers self-identifying within the subgenre. MC Frontalot, called alternately the movement's godfather or grandfather (thanks, kids), leads the charge, performing for thousands around the country and at prominent geek gatherings such as the Penny Arcade Expo and BlizzCon. He has released four studio albums, Nerdcore Rising (Sept 2005), Secrets From The Future (Apr 2007), Final Boss (Nov 2008), Zero Day (Apr 2010), and Solved (Au 2011). The documentary feature, Nerdcore Rising: The Movie, which focuses on Front's live band and the Nerdcore phenomenon general, debuted at the South By Southwest Film Festival, March 2008, and is currently distributed by Virgil films / B-Side.
Mikey Neumann (September 2nd show)

Author of the serial novel The Returners, Gearbox Software Chief Creative Champion, and all around awesome guy. His wit and charm can be seen in games you like and on the twitters.
Patrick Rothfuss (September 2nd show)
Patrick Rothfuss was born in Madison, Wisconsin to awesome parents. After nine years at the University of Wisconsin-Stevens Point, he accidentally had enough credits to graduate with an English degree.  Patrick then went to grad school.  He'd rather not talk about it.
In April 2007, The Name of the Wind was published and met with surprising success. In the years since, it has been translated into 30 languages, won all manner of awards, and become a bestseller in several countries.
After a great deal of work and a few raised eyebrows from his patient editor, Wise Man's Fear came out in March 2011, immediately hitting #1 on the New York Times Bestseller list.
When not working on the third book of the series, Pat plays with his baby, makes mead, and runs Worldbuilders, a geek-centered charity that has raised more than a million dollars for Heifer International.
Paul and Storm (August 30th show)
Paul and Storm have been writing and performing funny songs together for a long, long time, starting with their stint together in a cappella band Da Vinci's Notebook. Their music tends to make people laugh and feel good, and Paul and Storm believe that this makes their pursuit noble, right and just.
In addition to their own performances, Paul and Storm are also co-founders of w00tstock, their geek-oriented variety show co-hosted by Adam Savage ("Mythbusters") and Wil Wheaton ("Star Trek: The Next Generation", "Eureka"). The duo also co-produce JoCo Cruise Crazy, a Caribbean cruise/concert festival for fans of internet musician Jonathan Coulton, which began in 2011.
In 2012, the duo began development of their first webseries, LearningTown, produced by Felicia Day's Geek & Sundry YouTube channel. www.paulandstorm.com
Stepto (August 30th and September 2nd)
Part former Xbox banhammer, part writer, and 100% UNSC prime Grade A geek, Stephen "Stepto" Toulouse is known to bring the funk, hates steampunk, hides bodies in his trunk, invented the assisted slam dunk, once insulted a fan of Thelonius Monk and wow this is a silly introductory sentence, Stepto would like to welcome you to the end of it. www.stepto.com